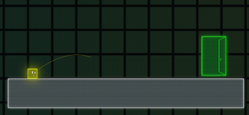 Level is the main gameplay area in bombhopper.io. There are totally 48 levels in the game presently, and the amount is expected to increase in the future.
Component
A level must consist of the following structure:
portal/door A picture showing the first level in the game : noob. Yellow one is player, grey block one is typical block, and green one is portal .
And may or may not consist of the following structures:
How to finish a level
Community content is available under
CC-BY-SA
unless otherwise noted.